Excavator Attachment Log Grapple/Bucket/Extended Arm
General Description
Product Tags
Product Model
Crab Type Log Grapple
Paw Type Log Grapple
Excavator Bucket
Excavator Extended Arm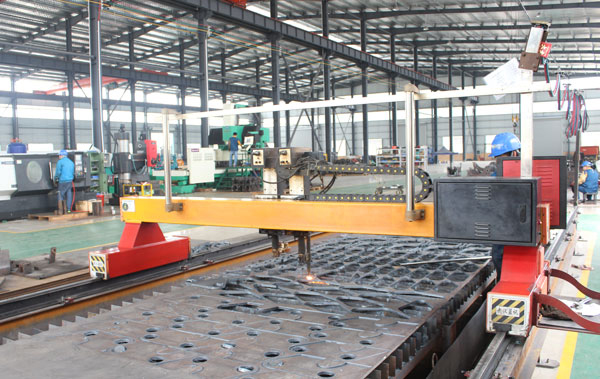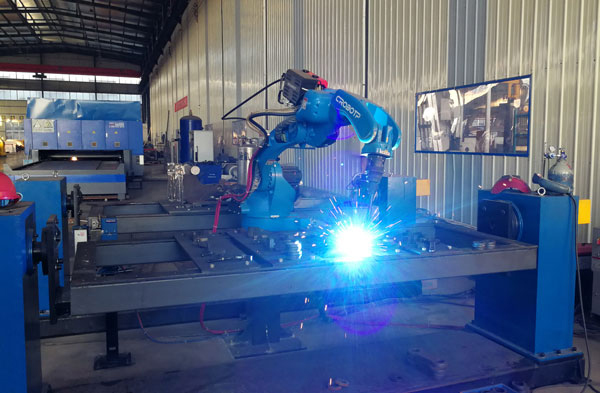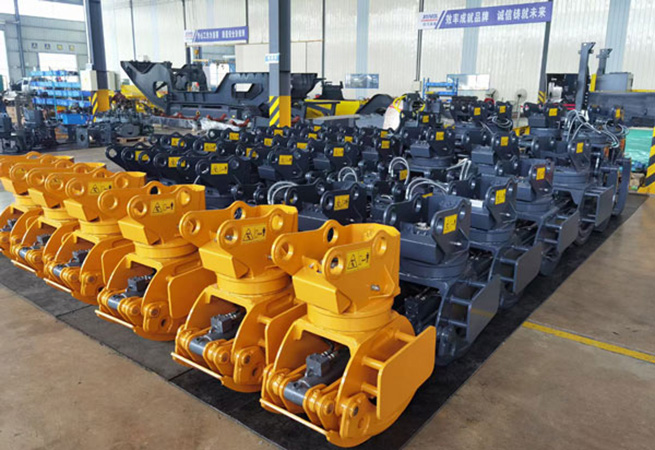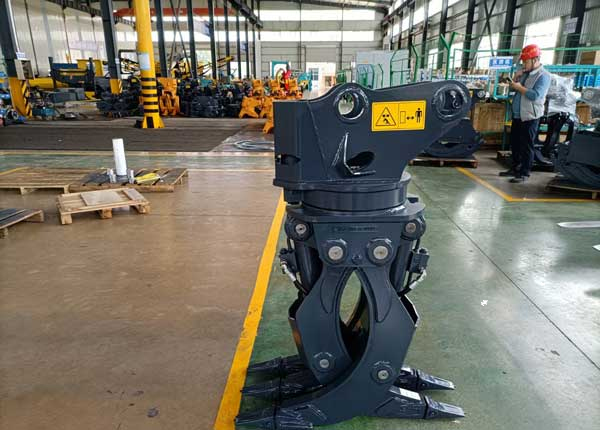 Gookma log grapple is made by special steel, it's of light weight, high tensile, wear resistant; Adopts electrical control handle operating system, equips with high quality solenoid, it can control the rotating speed, and can rotate 360 degree clockwise or anticlockwise, smooth in operation; It can be matched with 2t - 30t excavator for loading and unloading of wood, sugarcane and other materials, increase the working efficiency and save labor cost greatly.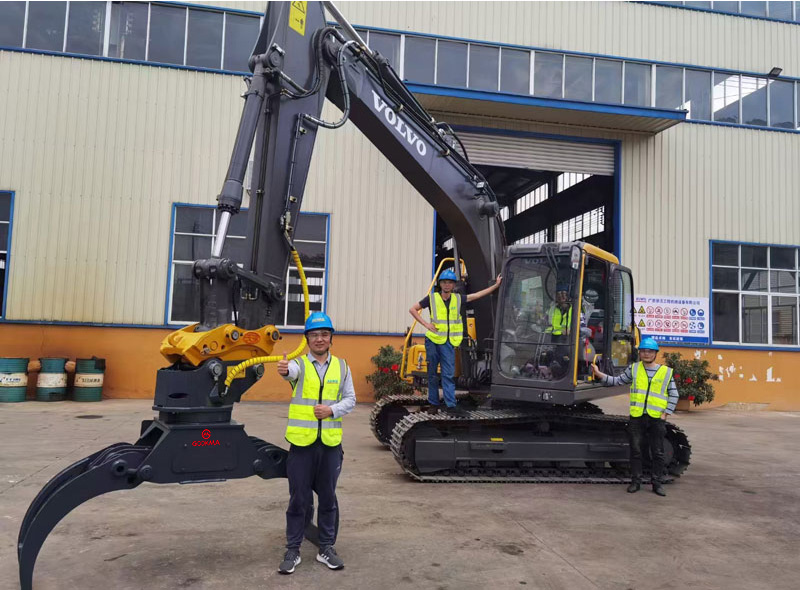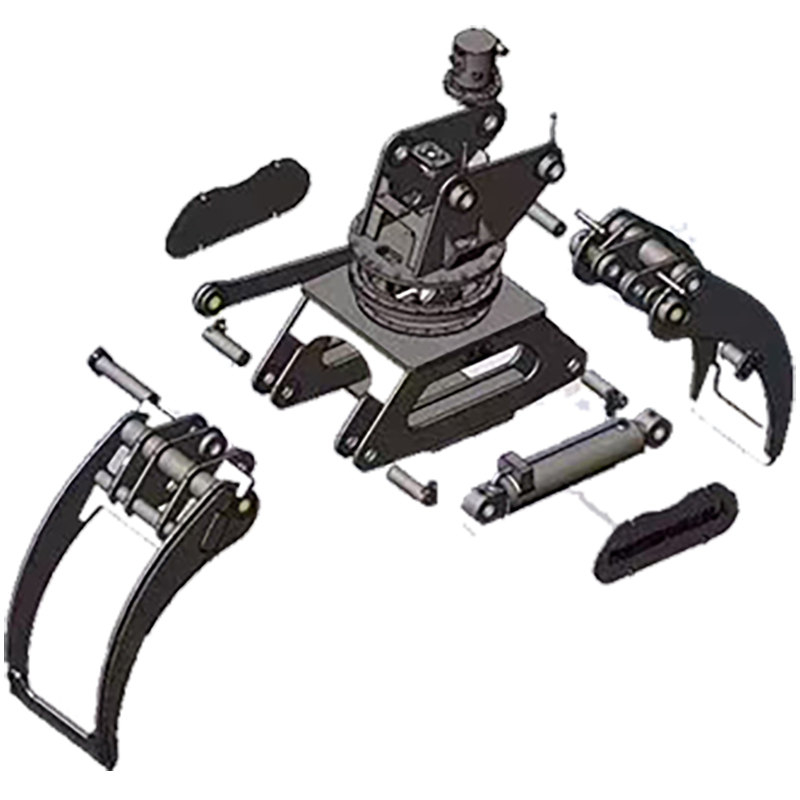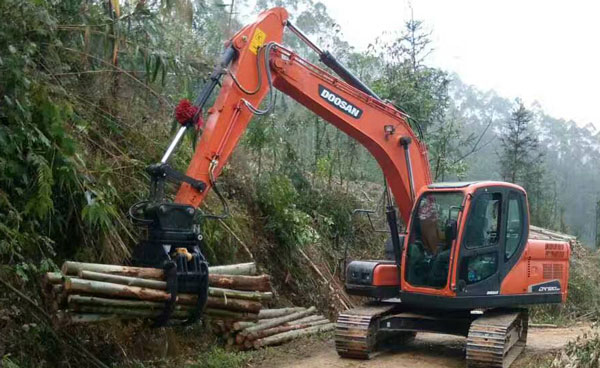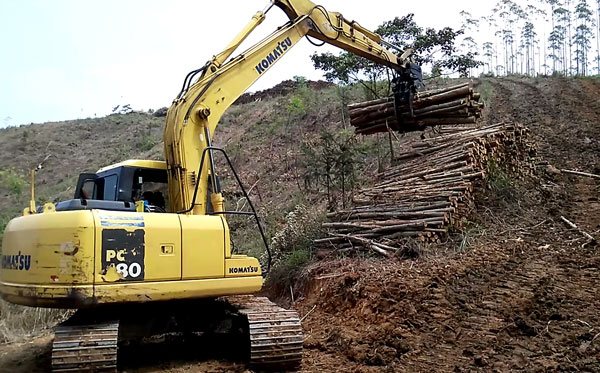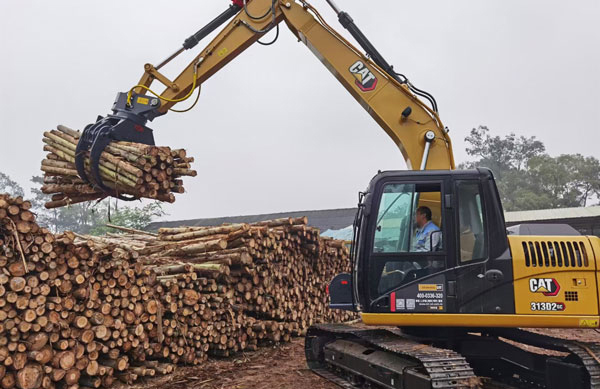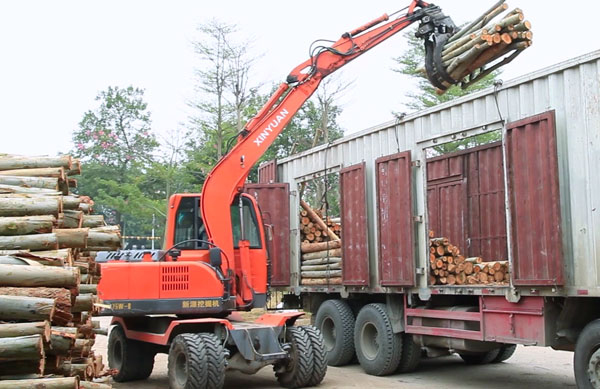 We manufacture various kinds of buckets for any brands of excavator according to customer's requirements. Scientifically resolve the problem of the stress, carefully selected material, advanced designed by CAD, also obtain the integrated quality controlling procedure for welding, so the duration of the structure, using capability and quality can be ensured. The specification covers from 0.1 m3 to 12m3 and so on.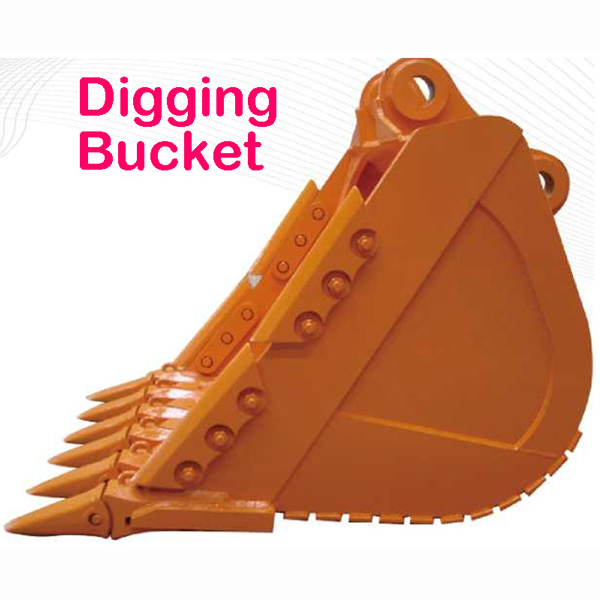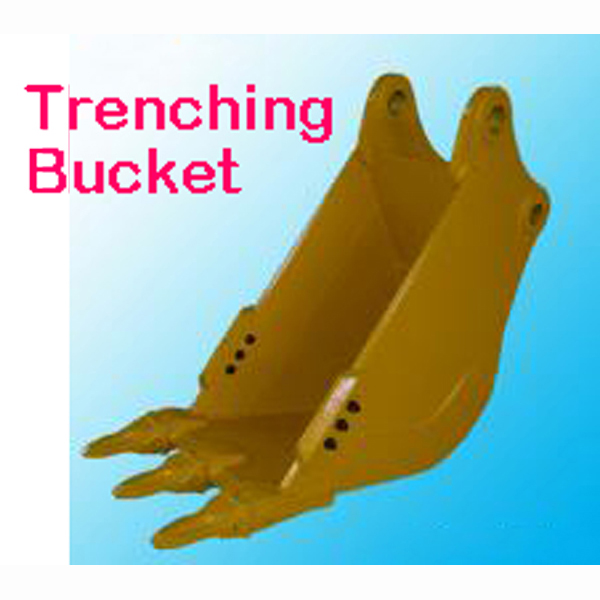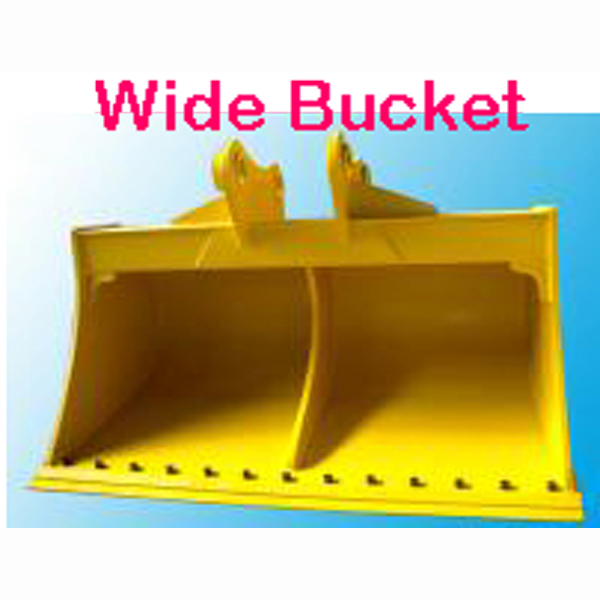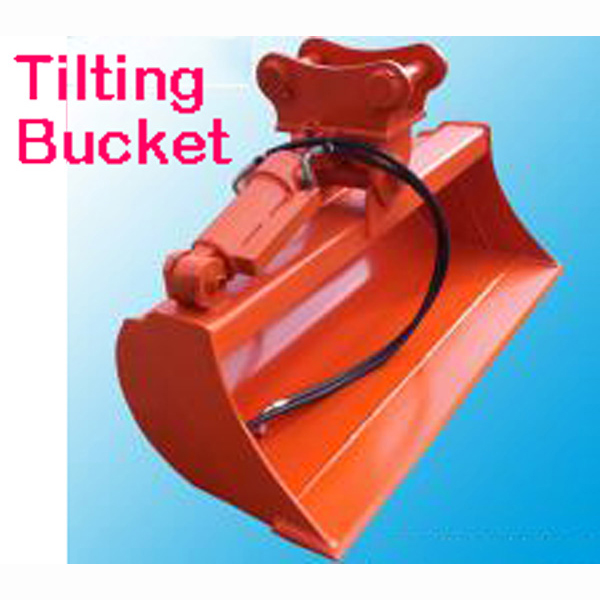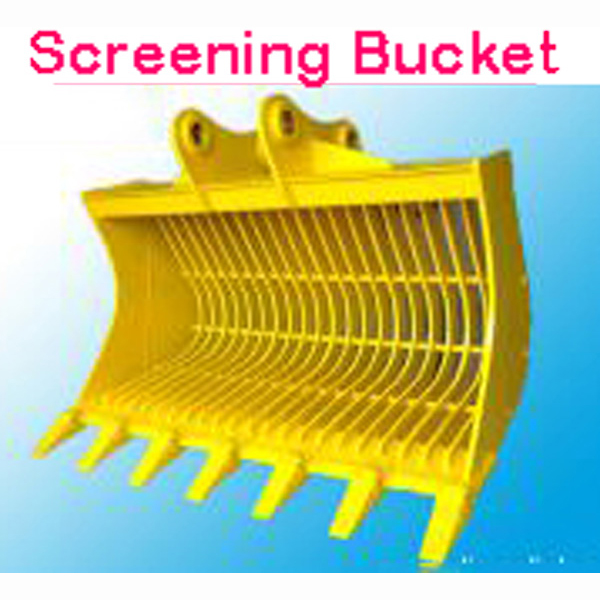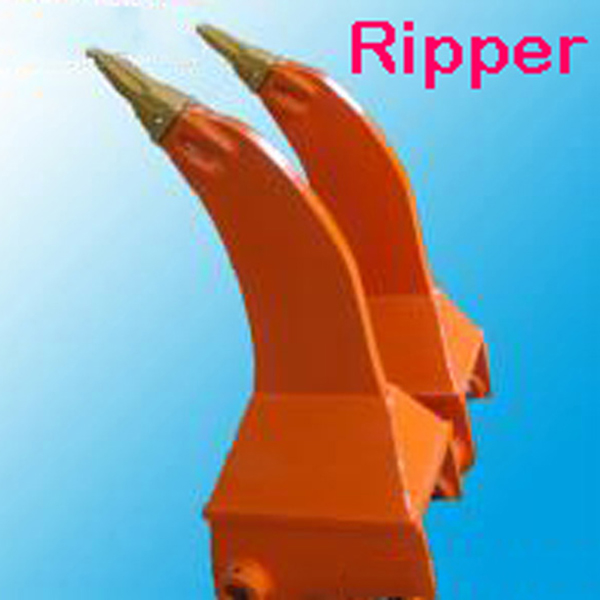 Excavator modified non-standard extended arm is mainly applied to clean up rivers and ponds, subway excavation, water conservancy and hydropower engineering, the construction of port and pier and other special operations & purposes; We can produce and modify according to the specific length of customer's requirement, the optional arm length is between 10m to 36m, main materials are Q460C, Q550C, Q690D, characterized by a strong structure and light weight, can achieve customer value.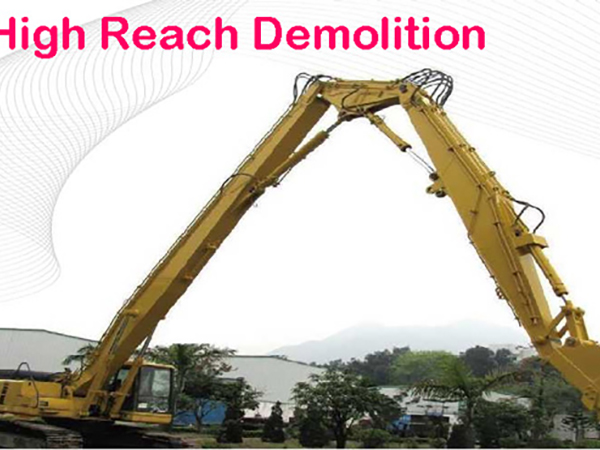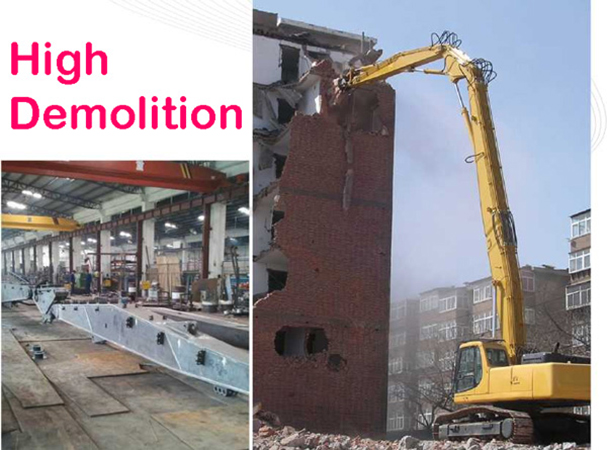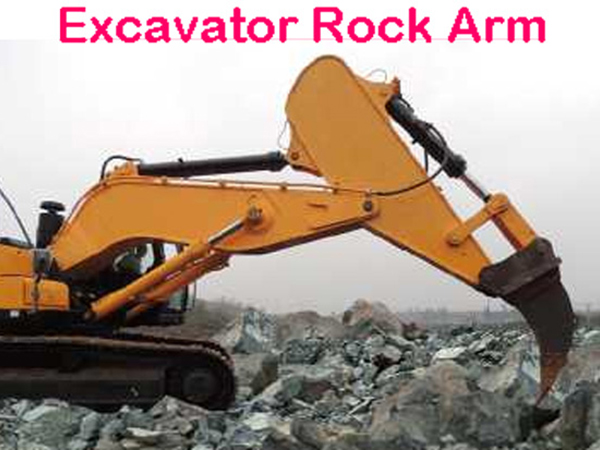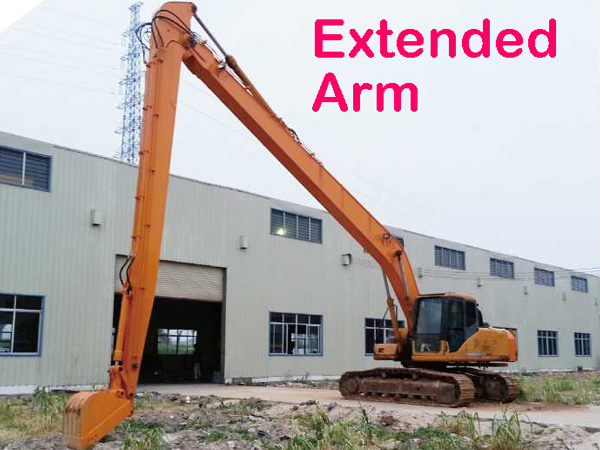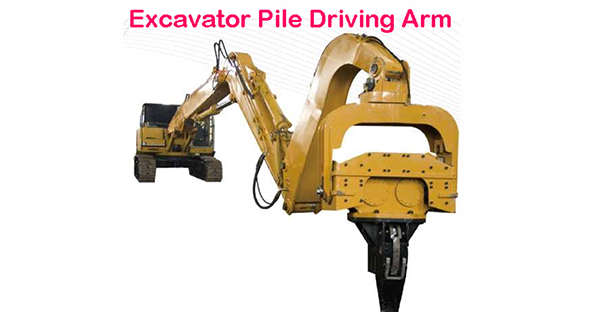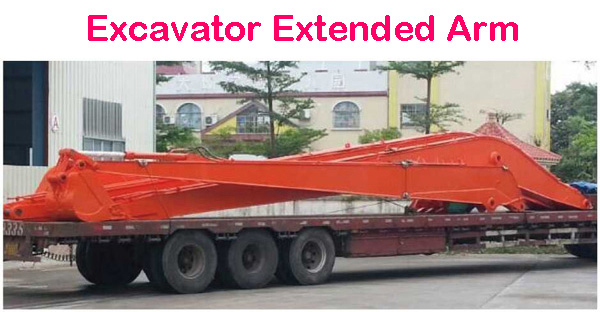 ---
---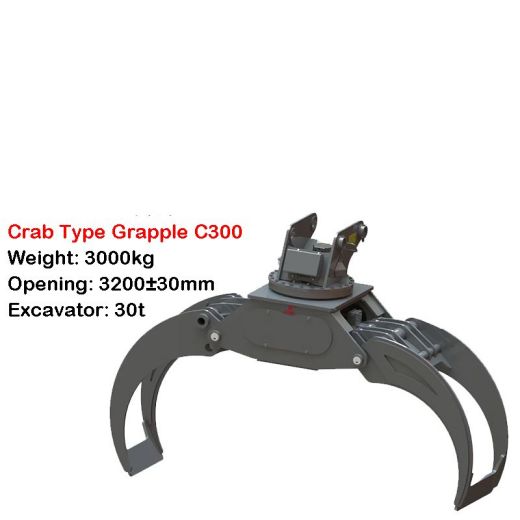 Model

C300

C200

C180

C150

C100

C90

C50

Style

Crab type/Single cylinder/double Connecting rod

Crab type/Single cylinder/single Connecting rod

Main material

Q 355 B

Q 355 B

Q 355 B

Q 355 B

Q 355 B

Q 355 B

Q 355 B

Electric Control Optional

√

√

√

√

√

√

×

Height of Clamping (mm)

1660

1450

1066

1060

930

890

600

Height of Opening (mm)

2417

2565

1495

1400

1240

1150

820

Width of KnifeInternal/External (mm)

779/ 880

634 / 734

396 / 600

415 / 475

373 / 534

401 / 441

242 / 272

Max Opening (mm)

3200± 30

2320 ± 20

2000 ± 30

1800 ± 20

1700 ± 20

1550 ± 20

920 ± 20

Min Clamping Circle (mm)

≦φ230

≦φ135

≦φ110

≦φ110

≦φ90

≦φ70

≦φ60

Max Camping Circle (mm)

φ1250

φ900

φ800

φ700

φ600

φ500

φ350

Weight  (kg)

3000

1800

900

650

450

350

100

Suits for Excavator (T)

30

20

20

10 ~ 20

9 ~ 12

4 ~ 9

1 . 8 ~ 3

Slewing Mode

Inner gearing vertical slewing

Outer gearing vertical slewing

Modules/Roller Diameter

M 7 / 683

M 7 / 683

M 5 / 355

M 5 / 315

M 5 / 224

M 5 / 224

M 4 / 160

Motor Type

Piston reducing motor

Wiring motor

Pressure MPa

12

12

16

16

16

16

16

Pipe Diameter/Cylinder Diameter

110/ 160

90 / 140

70 / 110

50 / 90

45 / 80

45 / 80

30 / 50

Pressure MPa

21

21

21

21

21

21

14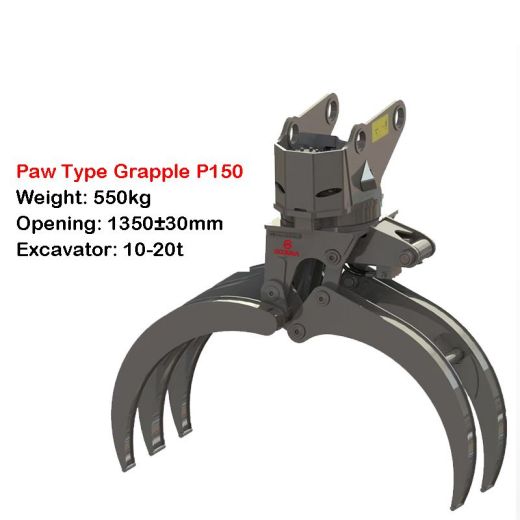 Model

P150

P100

Style

Paw type/single cylinder/double connecting rod

Main Material

Q355B

Q355B

Electric Control Optional

√

√

Height of Clamping (mm)

1600

1380

Height of Opening (mm)

1660

1360

Width of Knife Internal/External (mm)

415/700

415/700

Max Opening (mm)

1350±30

1250±20

Min Clamping Circle (mm)

≦φ135

≦φ110

Max Clamping Circle (mm)

φ560

φ500

Weight (kg)

550

380

Suits for Excavator (T)

10~20

6~12

Slewing Mode

Outer gearing vertical slewing

Modulus/Roller Diamter

M5/315

M5/224

Type of Motor

Wiring motor

Pressure MPa

16

Pine Diameter/Cylinder Diameter

50/90

45/80

Pressure MPa

21

21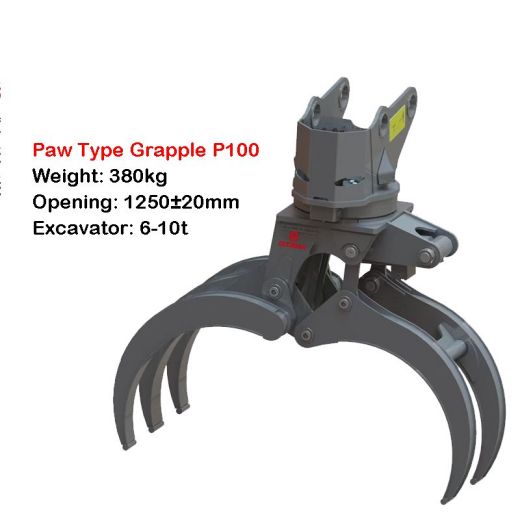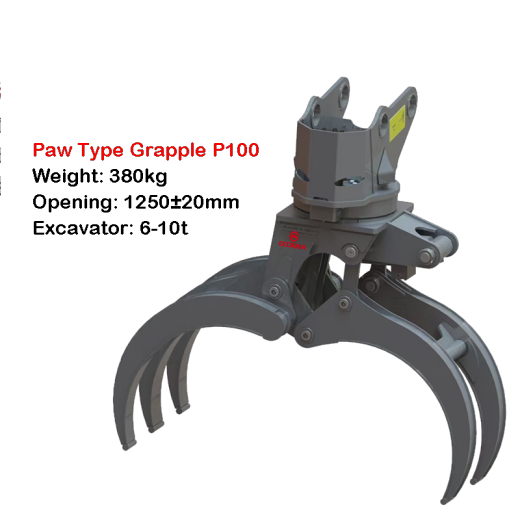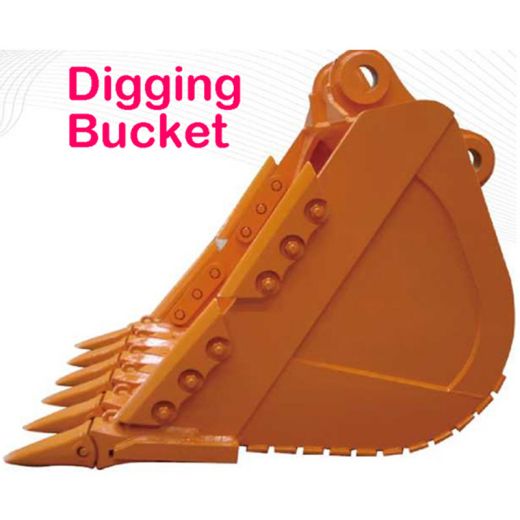 | | | | |
| --- | --- | --- | --- |
| Bucket Classification | Material | Configuration & Capability | Suitable for Working |
| Standard Bucket | Q345B | Standard plate thickness, high quality tooth plate | For digging clay, or loading sand, mud and gravel. |
| Reinforced Bucket | Q345B | Thicker plate, high quality tooth plate which can prolong the operating life. | For digging the tough mud, clay with soft stone, or loading soft stone. |
| Rock Bucket | Q345B | Adaptor plate made of Hardox material; Side plate and bottom reinforced  plate made of NM360 material; Other parts made of Q345B material. With high quality tooth plate, so that it can resist grinding and bending. | For digging the rubble, gravel and clay with tough stone, or loading the secondary tough stone and rock. |
| Heavy Duty Rock Bucket | Q345B +Hardox |  Adaptor plate, side plate and bottom reinforcing plate made of Hardox material; Other parts made of Q345B material. Consolidated plate on the bottom, enhance the thickness of side plate, and install protective board, the tooth plate is made specialized for rock, so that it can resist grinding and bending efficiently. | For loading the tough rock and the mineral from the explosion. |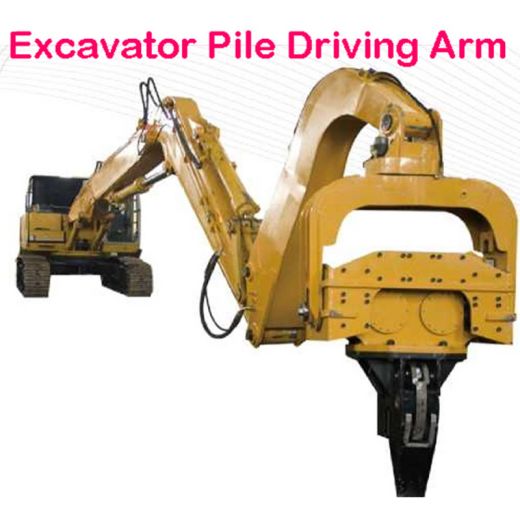 | | | | | | | | |
| --- | --- | --- | --- | --- | --- | --- | --- |
|   | PC120-6 | PC200LC-6 | PC220LC-6 | PC300LC-6 | PC350LC-6 | PC400LC-6 | PC450LC-6 |
| Total Length of Boom & Arm (mm) | 13000 | 15380 | 15380 | 18000 | 20000 | 22000 | 24000 |
| Weight (kg )  | 3000 | 4000 | 4200 | 5200 | 6000 | 6500 | 7000 |
| Bucket Capacity  (m3 ) | 0.3 | 0.4 | 0.4 | 0.4 | 0.5 | 0.6 | 0.6 |
| Max. Digging Height (mm) | 11300 | 12510 | 12610 | 13720 | 14920 | 16100 | 17300 |
| Max. Forward  Reach (mm) | 12500 | 15100 | 15100 | 17600 | 19600 | 21600 | 23600 |
| Max. Digging Depth (mm) | 9000 | 11340 | 11370 | 13000 | 15000 | 16500 | 18000 |
| Overall Height | 2900 | 2980 | 3040 | 3210 | 3210 | 3400 | 3400 |
Write your message here and send it to us