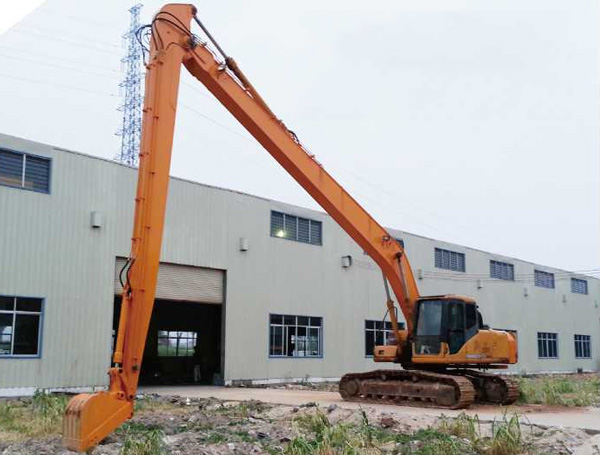 The excavator extension arm is a set of excavator front working devices specially designed and manufactured according to the working conditions to expand the working range of the excavator. The connection part must strictly conform to the connection size of the original excavator, so as to facilitate the installation and use of the equipment.
The extended arm is divided into two-stage excavator extended arm and three-stage excavator extended arm. The extended arm of the two-stage excavator can be extended to (13-26) meters, which is mainly suitable for earthwork foundations, deep cuttings, and long-distance dredging and mud excavation operations. The extended arm of the three-stage excavator can be extended to (16-32) meters, which is mainly suitable for dismantling of high-rise buildings and other projects.
Long arm excavator construction notes:
 1. When the excavator rotates, it must be 0.5m above the ground.
2. When the bucket is inserted into the working target, do not strike vigorously, nor walk or rotate.
3. When the movement of the piston rod of the hydraulic cylinder cannot reach the end of the stroke, a short safe distance should be maintained.
4. Do not lift overweight objects with long arms.
5. When operating on rocky ground, do not insert directly. It's supposed to be the other way around.
6. Use a bucket that is suitable for the digging capacity, and do not use an excess or loaded bucket, which directly affects the service life of the excavator and the extension arm.
Gookma Technology Industry Company Limited is a hi-tech enterprise specializes in development and manufacturing of small and medium construction machinery and small agricultural machinery. If you are interested in our products, please do not hesitate to contact us!

---
Post time: Mar-14-2023